The development team at Doc2 have continued improving the platform and have released a number of platform updates to improve user experience. We've listed out just a few of the key ones below:
Merged 'Documents' and 'Templates'
It has been a long time coming, but we have now merged 'Templates' and 'Documents' on the left-hand navigation bar. Why? Well, we often found that users would click on one, but wanting to click on the other. To access your documents now, just click on 'Templates' followed by the 'View Documents' button that will appear when you hover over a template.
Click 'Templates'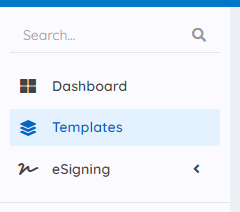 Then click 'View Documents'

eSigning a document redirect
Now, if you're logged in and eSign a document, you will be automatically forwarded back to the document page. This saves you having to close your tab. Only a small improvement, but all those clicks add up, right?
Including company name on eSigning emails
We've changed the format of the eSigning emails to include the name of your business in the subject. As a result, this will maximize the chances of emails going into primary inboxes, improve open rates, improve your brand consistency and ultimately increase the number of contracts signed.
Have your trading name on your emails
If your trading name is different to your registered company name, you can now set this so it will show in your eSigning emails. Just head over to the settings page.
Limit on the number of reminders
We have introduced a cap of 3 reminders per document sent for eSigning. Interestingly, 98% of all contracts that get eSigned happen with just 3 reminders, so no need to worry.
What is next?
We've got lots more platform updates planned for the rest of this year. Some big new features. More process and usability improvements. However, most importantly, we will continue to make the Doc2 experience better for you and your customers with every single update!