Firstly, it's really easy to set up your first template in Doc2 and should take you less than five minutes. Just follow the steps below or watch the video for a bit of extra help.
Access to templates is only available on our paid plans, but you can try out the feature on our 14-day free trial. The best bit, your trial doesn't start until our experts have professionally set up your template for you. So feel free to take the tour and see just how great our templating is!
Our templating feature is really what sets us apart from the rest – no more unprofessional PDF overlays or formatting going askew. Simply put, you can create exactly the same documents as you did before, but 10 times more quickly, with added compliance.
How do I set up my first template in Doc2?
Uploading your first template is a simple three-step process:
Open your template in Word (yes, step one is open the Word document, it really is that easy!)
Highlight the variables in yellow (see below)
Upload the template to Doc2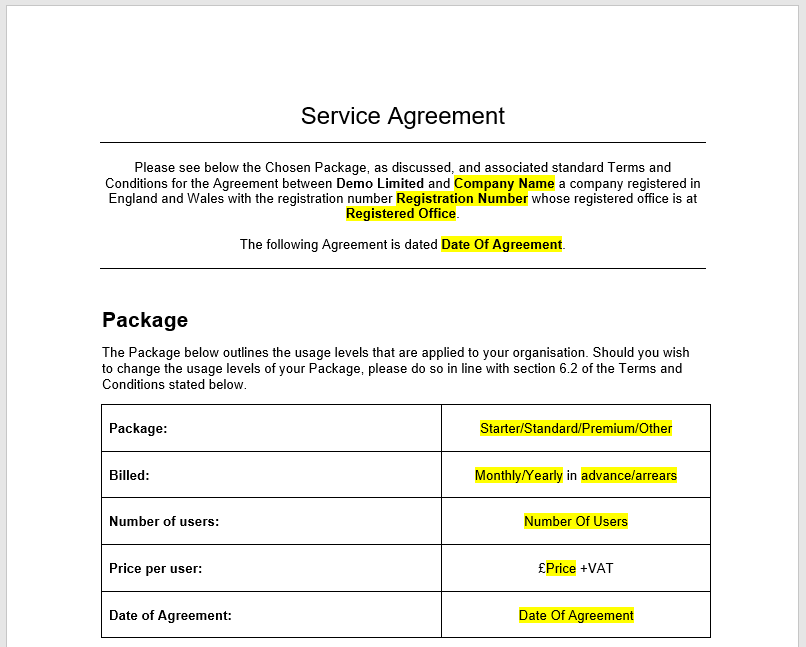 The document may look a little bit like this after you've highlighted it. This is just an example, but the concept applies to any template you upload; Non-Disclosure Agreements, Service Agreements, Engagement Letters, Employment Contracts or Order Forms etc.
The sorts of variables you should highlight are where you usually manually change them in Word for each new issuance, for example; company names, registration numbers, prices and addresses etc.
Watch how it's done [in under 2 minutes]
If you can use the highlighter tool in Word, then you can get your template set up in Doc2. Yes, it's that easy, as we do the hard work for you!
What happens next?
Once you've uploaded your template in the format above, our concierge template set-up team will get it set up for you. This means they will tag the template, set up the online form and adjust the field types for you. Depending on the complexity of the template means it could take anywhere between 10 minutes and a couple of days for it to be ready.
You will receive an email when the team start looking at it and one when it is complete. You may also receive an email stating that the template is not appropriate for Doc2 if the experts don't think it is suitable. Don't worry, we'll guide you on the next steps though!
What sorts of fields can I have?
Doc2 supports a wide variety of field types: short text, long text, numbers, dates, yes/no questions, dropdown questions, addresses and email addresses. In addition to this, we can apply logic, such that certain questions will only appear based on the previous answers to other questions. There's no need to worry too much about this though, our template experts will set it all up for you!
How do I set up additional templates?
On our Essential plan and above, you can have unlimited templates. You can set these up yourself, or use our concierge template set-up service (recommended!). Simply head to the 'Template' option on the navigation pane, then click 'New template', followed by the option at the bottom 'Concierge setup'. Then just follow the steps above.
What makes Doc2 templates different?
Templates with many platforms simply overlay data onto a PDF. This results in a messy, unprofessional finish. With Doc2, we use your existing Word document to create the documents you want, but 10 times more quickly. We pull data from Companies House and populate it where you need it with a single click, plus loads more. You can see how it works in the tour.
What sort of templates should I upload?
Doc2 has been designed to speed up the creation, sending, management and eSigning for contracts. Below is a list of the main sorts of documents our existing clients use on the platform. Generally speaking, they are legal agreements that require a low to medium level of personalisation and that need a signature.
Business Agreements
Commission Agreements
Consultancy Agreement
Data Protection Agreements
Engagement Letters
GDPR Consent
Hire Agreements
Introducer Agreements
Letters of Authority
Managed Service Agreements
Master Service Agreements
Non-Disclosure Agreements
Order Confirmation
Order Forms
Privacy Notices
Rental Agreements
SaaS Agreements
Service Agreements
Statements of Work
Terms and Conditions
Terms of Business Agreement
In short, if you have a Word template document with variables that change with each issuance, we can most likely automate it for you!
Ready to upload your first template? Yes? Great! If you've already created your Doc2 account, then head to 'Templates' > 'New template' > 'Concierge setup'. Or, if you've not got an account, create your account here, complete the short tour, and then upload your first template to Doc2.
If you have any issues with your templates, just pop up on the live chat we'll help sort it out.
Oh, and if you don't have a template, just follow this link to download our free Non-disclosure agreement template.