It's been an incredible six months for Doc2! In fact, we've released lots of new and exciting features and functionalities. Additionally, we have an awful lot more planned for 2022! Take a read about some of our latest platform updates…
Features and updates
This is a big one. On the Professional plan and above, you can now access comprehensive team management. This means you can have multiple teams, with each team having access to different templates. Growing organisations with Sales, HR and Operations departments are loving this feature so far! Read more here.

Concierge template set up
We know getting up and running with new software can often be a struggle. That's why we released the concierge template set up. What does it mean? It means we work with you to get your templates up and running and utilise Doc2 to the maximum. When you need a new template, just go to upload a template and choose the concierge option. It will then guide you through what you need to do.
Updated our PDF conversion engine
Documents are now being generated 50% more quickly with an updated PDF conversion engine. Albeit somewhat techy, this update is going to enable us to do some really exciting things in 2022!
We store structured data based on the fields for a template with every document created on Doc2. We've now released a feature to allow you to get access this data in a CSV format and therefore inform and feed into your management decisions.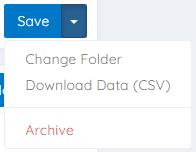 Companies House SIC code, jurisdidction and director name lookups
If you use the Companies House lookup, you can now pull through SIC codes, jurisdictions and director names. For example, if you search for a company name, you can then do a secondary lookup for a directors name, perhaps on the eSign name field. This ensures you have an authorised signatory to sign the contract.
Improved knowledge base articles and videos
We've updated the look and feel of the knowledge base with lots of helpful videos, however, you can always use the live chat should you need any additional support.
Ability to delete folders
You asked for it, we built it. You can now delete folders you no longer need (yes, we know we should have released this earlier!)
Default emails for signatories
Do your contracts always get signed by the same people? Yes? You can now set default email addresses for signatories.
Improved usability for Yes/No questions
Bigger and easier to click Yes/No buttons makes answering the questions much quicker.

Small, but worthy of being on this post. You can now set a default date to 'today'. Saving a few clicks on every document.
Other interesting updates
Amongst the platform updates, we've simplified our pricing plans and provided more detail about what is included in each. Importantly, we've now included the custom branding in the Premium plan, as a result, you can now provide a consistent branded experience to those esigning your documents.
Platform tour on first login
When you sign up or log in for the first time, you are now guided through the platform on the tour. This shows you how to create documents from templates and around the dashboard.
What platform updates are coming up?
There have been a lot of platform updates released over the past few months, however, there is a very big 2022 planned. Specifically, open APIs and more flexible eSigning are in the works. Keep your eyes peeled!
Have a great rest of your 2021 and feel free to reach out to us if you have any questions about the platform.