Small, but super cool. That's how we would describe the new director name lookup feature.
When you send a contract, more often than not you will want a director of the other company to sign it. What this usually involves is finding the company on Companies House, clicking to the "People" tab then, copying and pasting the name into your contract. You may even have to reformat it as Companies House format director names like this, "SMITH, John".
Very frustrating when you are doing high volumes of contracts. As well as being slow, there is a serious risk of human error here. As you know with contracts, compliance is key and this feature gives you extra peace of mind.
So what does the director name lookup feature do?
In short, what it says on the tin. When you create a document through Doc2, you can already lookup a company name and pull through the registration number and registered address. This new feature takes this to the next level.
After you have completed a company name lookup, we then allow you to lookup the directors of that business. This means in a matter of clicks you can pull through accurate, up to date data about the company and be sure you have a director or company secretary signing the document.
Watch the director name lookup in action
Our founder, Josh Harris walks you through the director name lookup, have a watch…
How do I set it up?
First of all, ensure that the Companies House integration is installed (click, Settings > Apps > Install). From there, head to the template you want this set up on and align the Companies House field to the fields you want the data to be pulled through into your template. For more information head to the knowledge base and read the article called "[VIDEO] Companies House integration (SIC Codes, jurisdictions and director names)"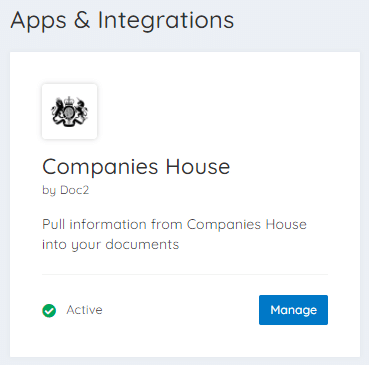 Try it for yourself
Don't already have a Doc2 account? No worries, you can try out the Companies House lookup in two different ways. One, head to our homepage and there is a fantastic interactive demo. Pick a template, type in a company name and see the magic. Two, you can create an account (for free) and complete the fully interactive tour. You will experience the ease of creating documents and get a full tour around the platform.
To maximise compliance, speed up contract creation times and impress your clients, give Doc2 a try today.
For more details on who can sign on behalf of a company check out this article.