Exciting Updates: Unveiling Doc2's Newest Features
At Doc2, we've been buzzing with activity, striving to create the ultimate platform for SMEs to effortlessly create, manage, and eSign their contracts. Today, we're thrilled to share some of our latest releases that bring us even closer to achieving this goal!
Just eSign – eSigning Made Simple
Creating documents from templates on Doc2 has always been a breeze. However, for those rare occasions when you have non-templateable documents, getting them eSigned could be a bit tricky. But worry no more! Introducing 'Just eSign' – a game-changer that lets you drag and drop any PDF or Word document into Doc2 for lightning-fast eSigning. Look out for the 'Just eSign' feature in the navigation panel under 'eSigning.'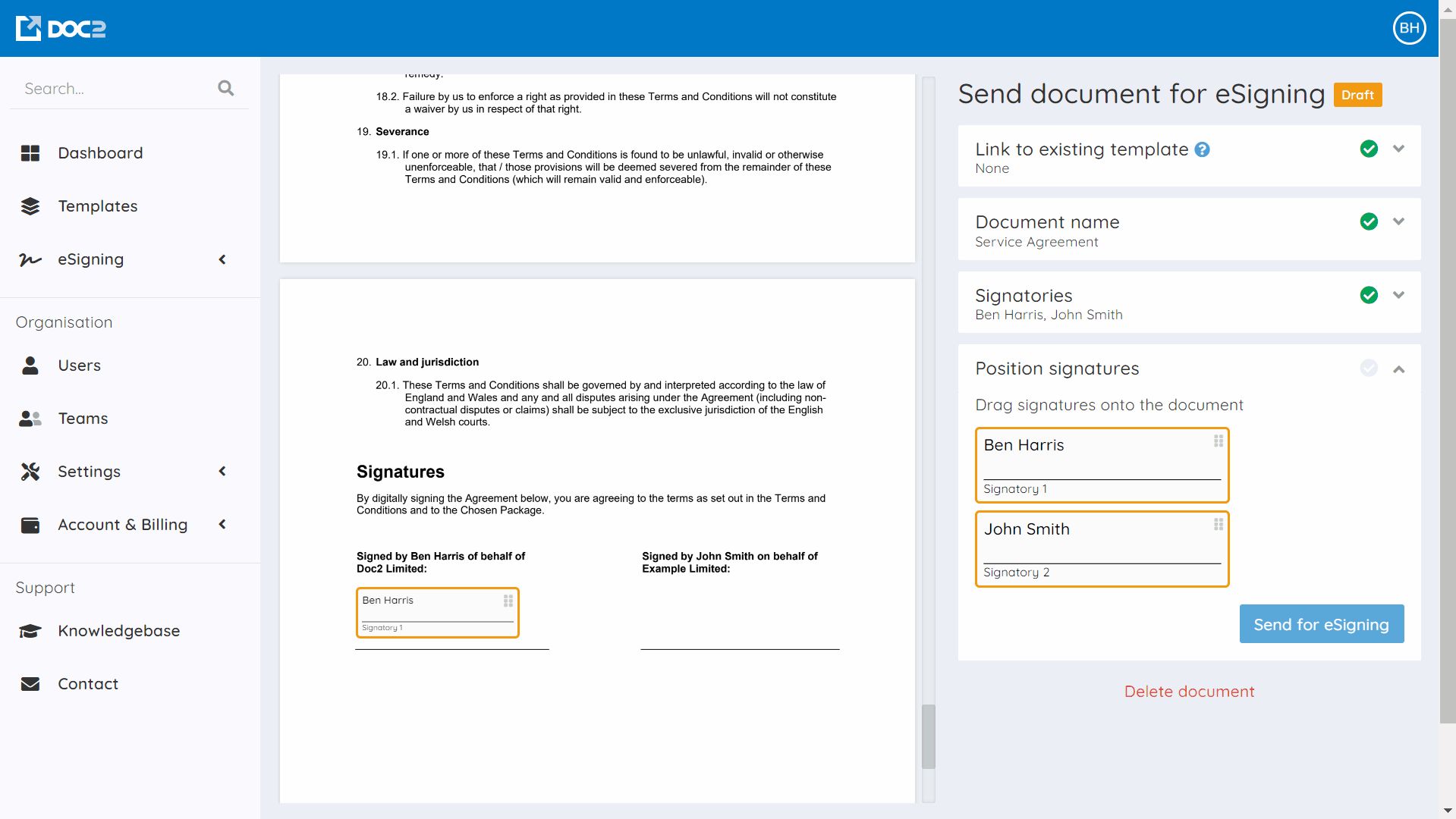 Improved Search – Find What You Need
We understand the importance of quickly finding the information you seek. That's why we've revamped our search functionality to provide more results in a more user-friendly order. Now, you'll also see the document status displayed as a tag in the search results – making your search experience more efficient than ever.
View Drafts – No More Missed Signings
Ever worried about accidentally forgetting to send out documents for signing? Fear no more! With our new 'View Drafts' feature, you can now easily access and review draft documents with eSign envelopes created for them. Stay organized and ensure all documents are sent out promptly.
APIs and Webhooks – Seamlessly Integrated
For our clients on API plans, we have opened up a world of possibilities with our extensive range of APIs and Webhooks. Seamlessly integrate Doc2 with your current systems and unlock a new level of efficiency and productivity. If you're interested in learning more about our API plans, don't hesitate to reach out to us via live chat.
Management Portal – Unify Your Accounts
Our Management Portal is designed to cater to large networks of organizations and resellers, providing them with a unified, easy-to-use dashboard to manage multiple Doc2 accounts effortlessly. Say goodbye to the hassle of juggling multiple accounts and embrace a streamlined experience.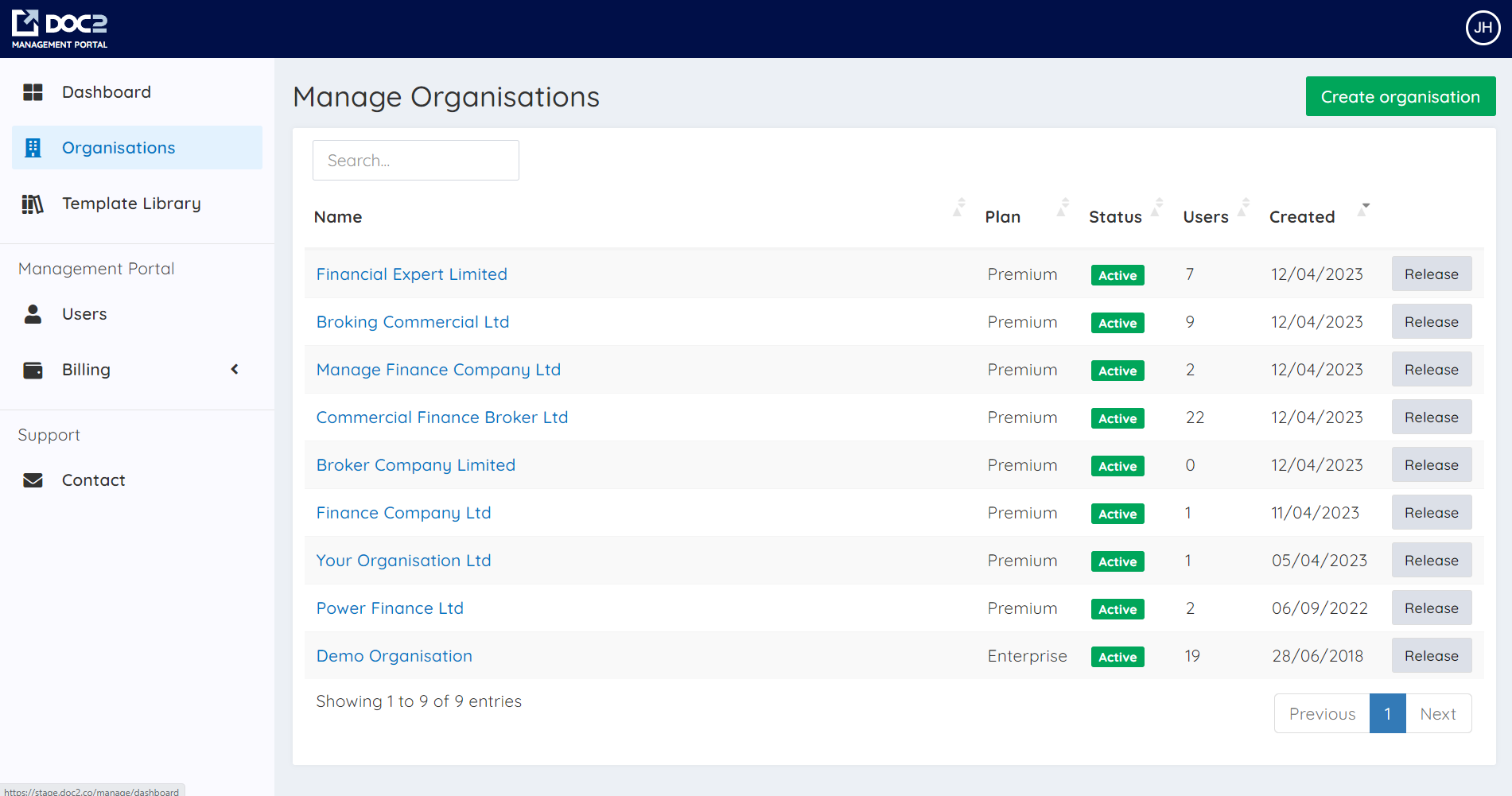 Template Libraries – Unleash the Potential
For Management Portal clients, we present the remarkable Template Libraries feature. Now you can publish both public and private libraries for Doc2 users to integrate into their accounts. This opens up exciting opportunities, and we have big plans for its future development. Keep an eye out for when you gain access!
ChatGT on Template Setup – Simplify Your Workflow
Prepare to be amazed by our latest innovation – ChatGT on template setup! While mainly used by our concierge team, this feature empowers you to generate questions for all fields with just one click. It's super cool and saves you valuable time.
Stay tuned for more, we're not done yet! There's much more to share about these fantastic features, and we'll be diving deeper into each of them through blog posts and feature pages. So, keep an eye on our updates and stay in the loop.
As always, our team is here to assist you. If you have any questions or want to learn more about these new features, don't hesitate to reach out. Let's embark on this exciting journey together!