We're thrilled to announce the arrival of a game-changing new feature within Doc2: the template library! This latest enhancement is all about streamlining the contract creation process even further, providing a robust solution for those who need to distribute their templates easily and compliantly.
Doc2 has always been at the forefront of simplifying contract creation and eSigning, and with the template library, we're taking another giant leap forward.
No more emailing out white-label templates or asking businesses to wrestle with Word documents—now, it's all about efficiency, compliance and personalisation.
Who is the template library for?
Whether you are a commercial finance AR broker network looking to streamline your agreement processes, a law firm needing to distribute a variety of legal templates, an association that manages a library of standard documents, or a firm with multiple offices requiring uniformity, the template library is your solution.
You can now distribute your templates whilst ensuring consistency, compliance and professionalism across your whole library, no matter how many organisations use your templates.
How does the template library work?
A template library is set up and managed by an organisation (such as the ones mentioned previously). Then, it allows other organisations to rapidly install these perfect templates, tailor them to include their business's branding, and send out flawless documents to their clients in seconds, using Doc2's famous document automation.
The process is as seamless as it is powerful: select a template from the library, add your logo and specific business details, and voilà—you have a professional, personalised contract template ready to use. No more fiddling with formatting or worrying about inconsistencies. The template library ensures that every template you install reflects the excellence of your business.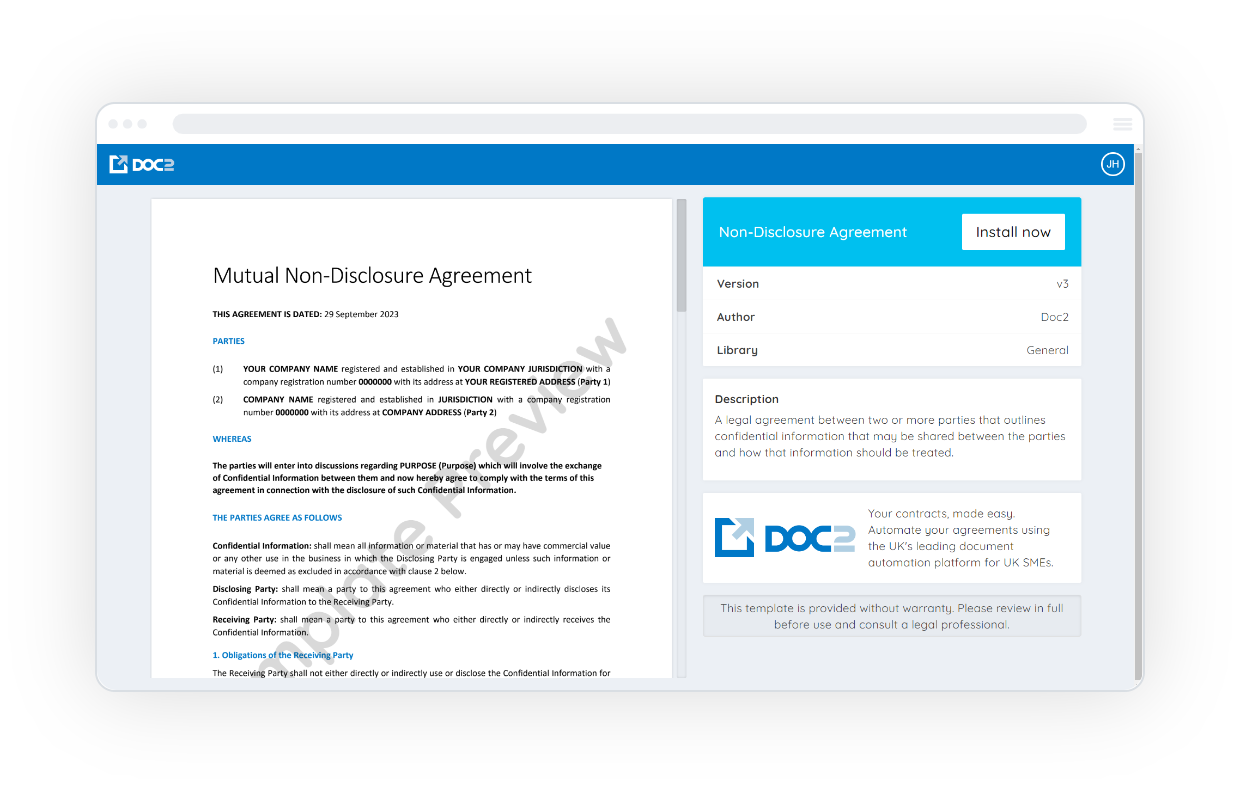 How would it work for a commercial finance AR broker network?
For commercial finance AR broker networks, the template library is a game-changer in ensuring compliance and streamlining operations.
As the FCA-authorised backbone for their appointed representatives (ARs), these networks shoulder the responsibility of ensuring that all documentation, including Terms of Business, Privacy, GDPR policies, and Fact Finds, adhere to strict regulations. Historically, managing and distributing white-label templates to ARs has been a cumbersome and risky task. New ARs would be inundated with complex, generic documents requiring considerable customisation—a process that was not only time-consuming and fraught with difficulty but also left the network with scant oversight over the AR's modifications. This lack of control posed a significant compliance concern.
Enter the template library: a centralised hub where networks can store their suite of white-label templates. When ARs join, they no longer face a deluge of paperwork. Instead, they can effortlessly 'install' the network's templates directly into their Doc2 account, seamlessly integrating their company details and branding. This simplification transforms a once daunting task into a few simple steps, enabling ARs to produce immaculate, personalised documents at lightning speed with Doc2's robust automation features.
The network retains full control over the use of correct templates, granting them the assurance that compliance is consistently upheld. And should there be a need to update a template, the process is just as efficient. The network makes the changes, and upon publication, ARs are prompted to update their versions, ensuring immediate adoption of the latest standards. Compliance is no longer a concern—it's a guarantee.
With the template library, commercial finance AR broker networks can rest easy knowing their ARs are equipped with the tools to generate compliant, professional documents swiftly and accurately, every time.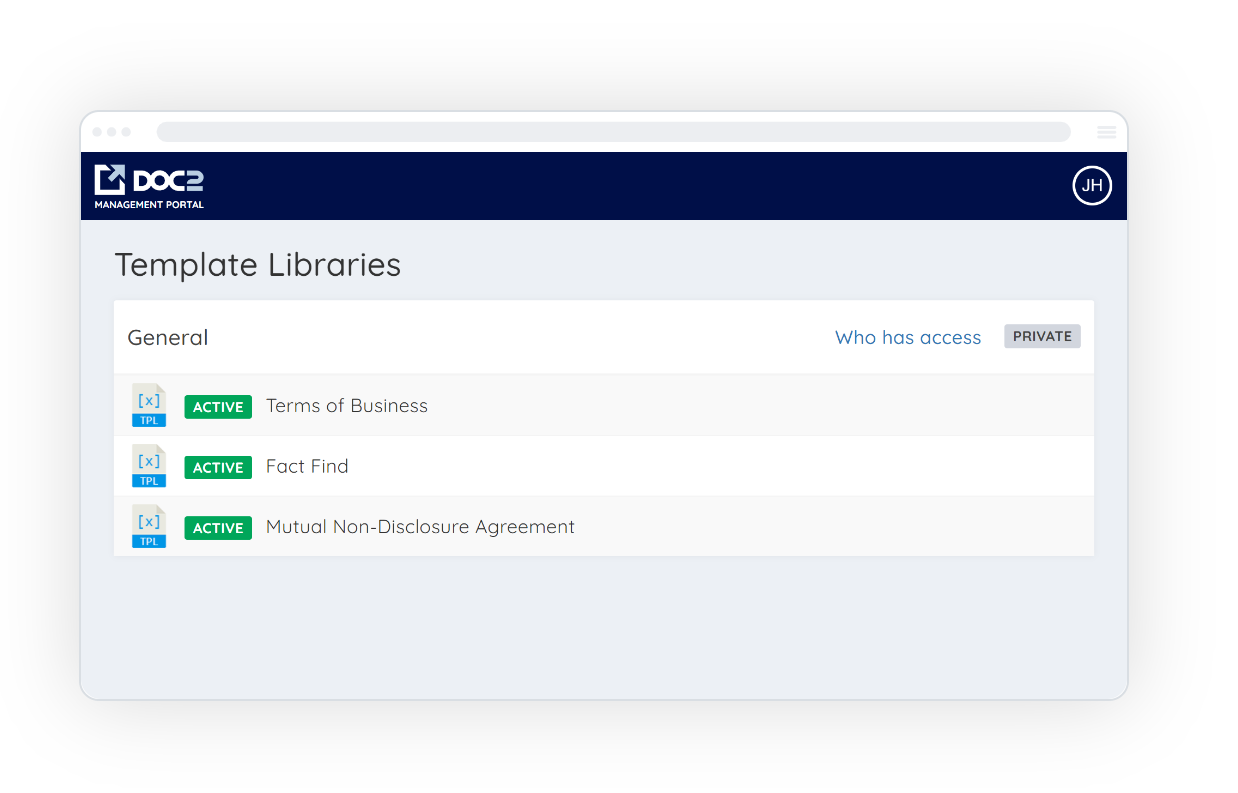 How can I create my own template library?
Crafting a template library that's tailored to your organisation's unique needs is a collaborative process, and we're here to guide you every step of the way. Setting up your customised library and infrastructure is a breeze, and there's no need for concern. Simply schedule a consultation with our expert team, and we'll walk you through the details of the setup process with ease and clarity.
Let's work together to build your ideal template library—reach out and book your call today!