Last week we released our latest update which included 'External Forms', but what are they exactly? Let me fill you in. In this post, we dive into a bit more detail explaining what they are, how they work, how to set them up and the benefits they bring to your business.
What are External Forms?
When creating a contract through Doc2, you answer questions that are mapped to your master template. These answers then update your contract accordingly, allowing you to create bespoke documents in a matter of seconds. However, you may sometimes need another party to add in information that you do not know. For example a company name, an address or registration number or more personal details.
External Forms allow you to collect this information, but will also update the contract for you. It can then be eSigned seamlessly.
How do I use External Forms?
You will be asked if you want to 'Request information' or 'Enter information now' when creating a new document from a template that is set up with External Forms.

An External Form will not be sent if the 'Enter information now' option is chosen. Rather, the document can be sent for eSigning straight away.
If 'Request information' is selected, icons will appear showing which fields can be updated by the external party (these are set up at the template level, see below).
Once the contract is created with the 'Request information' selection, you simply send it for eSigning as normal. The external party will then be able to add or update these requested fields in an intuitive form, a bit like this one…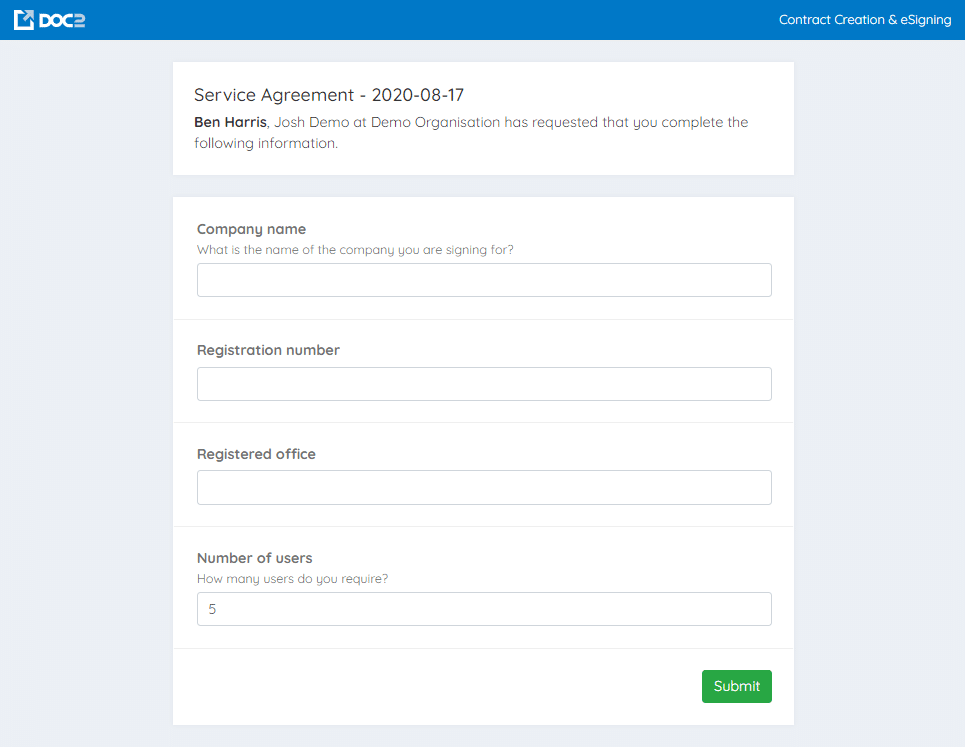 Once submitted, the contract gets updated accordingly and can be eSigned with ease.
How do I set up External Forms?
Setting up an external form is really easy. Just follow these steps:
Go to the edit template page for the template you want an external form on.
Edit the latest version of the template.
Click the 'Advanced' tab.
On the right-hand side, 'Enable the external user form' and pick which signatory will be able to add information. This will most likely be your customer/client.
Choose whether you want the eSigning flow to be automatic or review. Automatic allows the external party to eSign straight away, whereas Review notifies the creator of the document before the eSign envelope is created.
Choose which fields can be set externally.
Click submit.
Return to the 'General' tab.
Go to each of the fields that you selected as external fields.
On each, you can set the wording for the external form or if they are required. The default label will always be the same as the standard form.
Click submit in the bottom right.
Need a hand setting one up? Just drop us a message on the live chat and we can help.
How will they help my business?
External Forms ensure you are contracting with the right entity as you are passing this task to your customer to fill out. In addition, it minimises back-and-forth by getting your customer to put in key information. Finally, if you need to collect lots of data from an external party these forms make this process incredibly simple!
Combined with Doc2's revolutionary contract creation, this functionality makes creating, sending and eSigning your contracts easier than ever.
Why not try Doc2 for free today?