We are delighted to launch the all-new free digital signing plan. The plan gives you complete access to our highly rated Just eSign feature. Therefore you can get documents digitally signed in seconds! Furthermore, it is 100% free!
This plan is designed for new and growing businesses looking to move to digital and electronic signing for their documents. Consequently, if you are a business looking to try document automation processes then digital signatures are a good place to start.
What is included in the plan?
The free plan includes the following  benefits and features that will get you started with online signing
Send 5 documents free for eSigning per month
Works with any Word or PDF document
Send reminders on documents that are yet to be eSigned
Produce, send and then sign your first document in seconds
Fantastic user experience for you and the people signing and finally…
5-Star UK support
All of this-completely free! Sign up now, free forever, no credit card required.
What is the Just eSign feature?
Doc2 provides industry-leading document and contract automation.
However, we recognise that there are often ad-hoc documents that do not have a template. Nevertheless, some of these ad-hoc documents need eSigning. Because of this, we created Just eSign. With this feature, you can quickly and easily eSign any Word or PDF document in seconds. Complete your document, then simply drag and drop it into Just eSign for signing.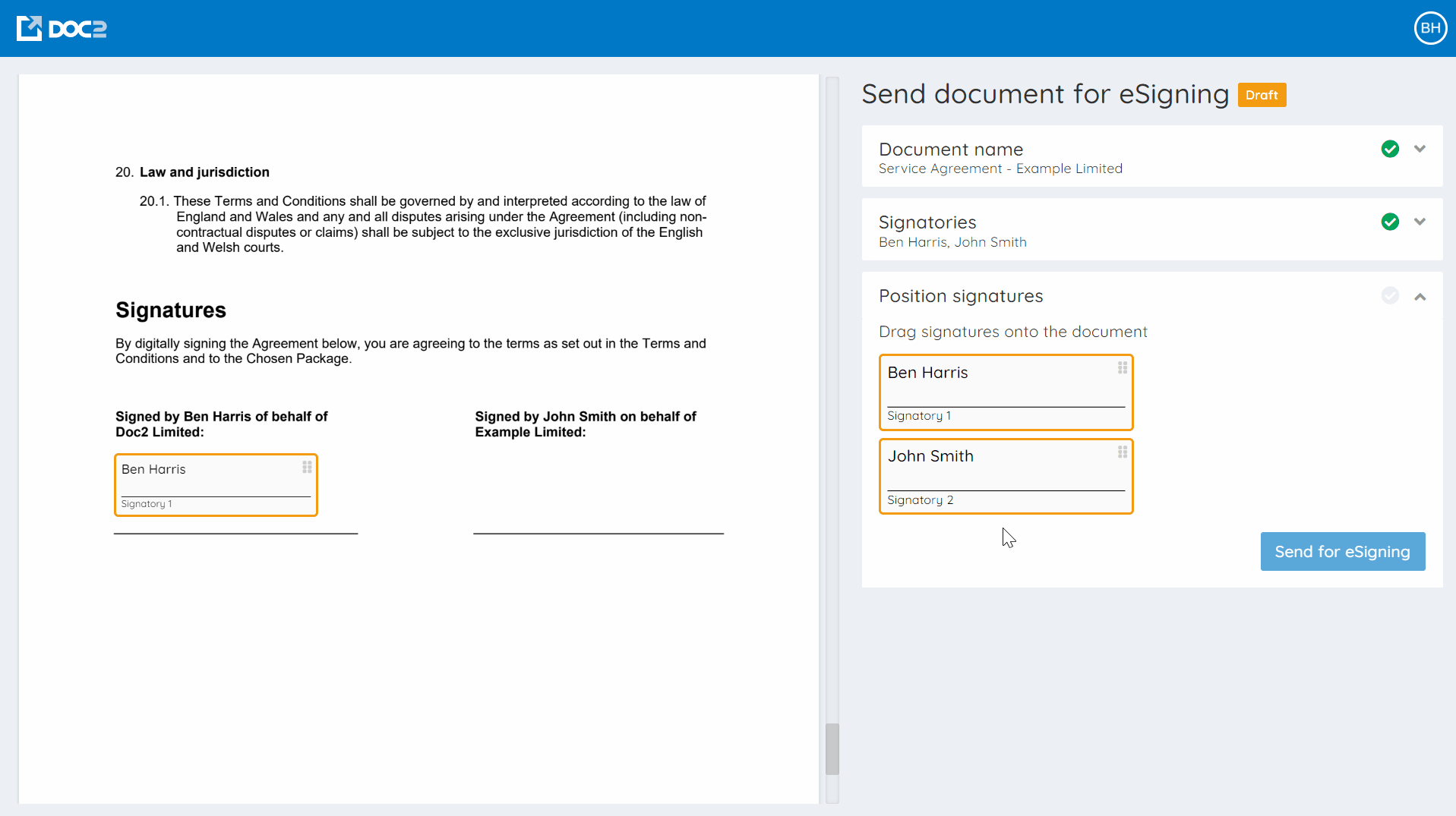 Derek at ISARR comments "the recent addition of Just eSign means our clients and team members can sign existing PDFs in a very short time".
How easy is it for my clients to eSign?
Uploading the document is really easy. Importantly, it's also simple for the recipients to sign.
Your recipients will receive a unique link to the document. Then, all they have to do is type their name to sign. It's that easy. Check it out below…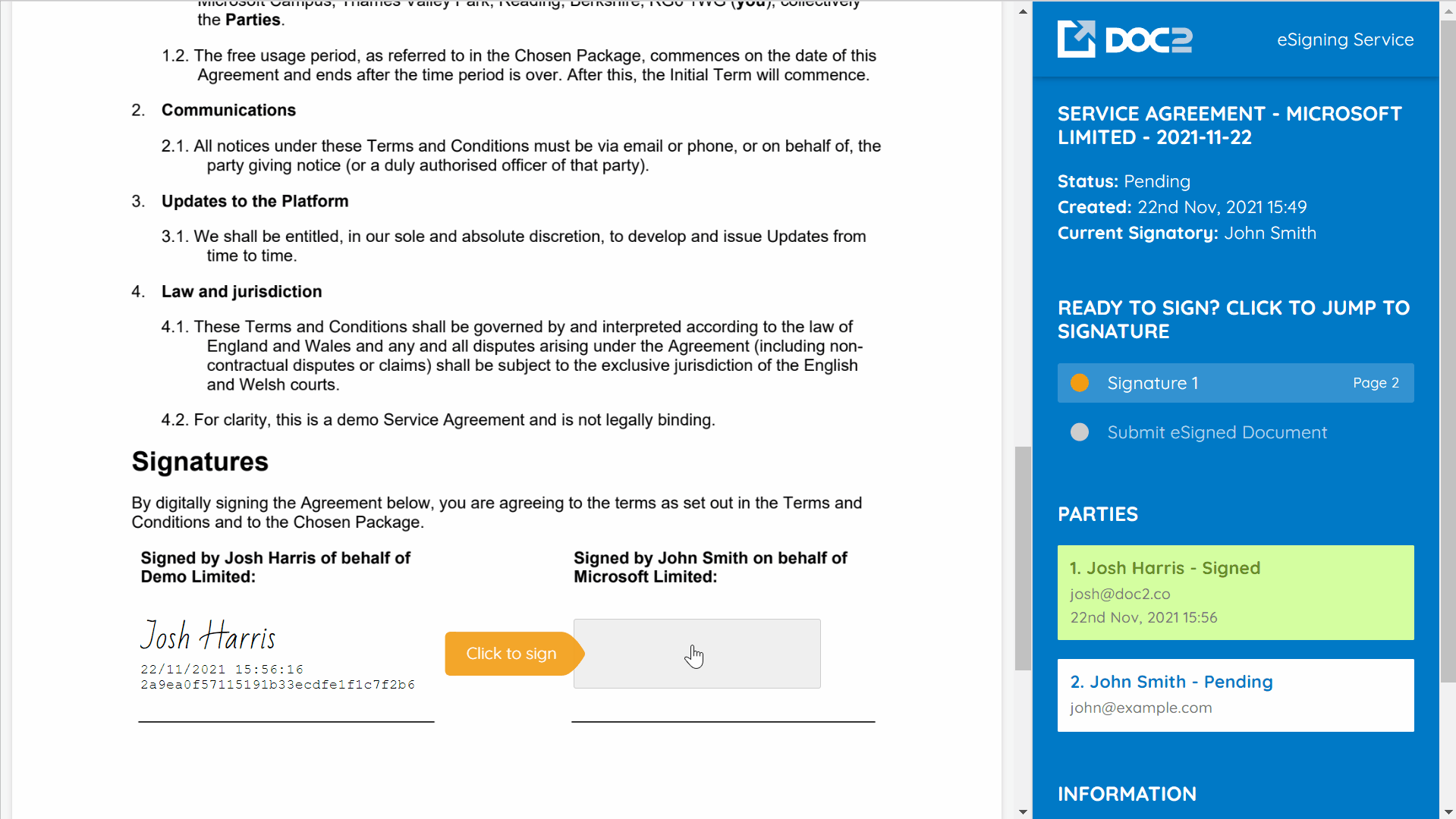 What are people saying about our free digital signatures?
Our feedback is compelling.
"Nice work.Very quick, very simple. I really like that a signed copy is delivered along with confirmation. Derek, ISARR

"That's great. I have used it and is super easy." – Charlotte, Agecko

"I've tested it out with a couple of documents and it works perfectly!" – Steven, Quest Tax Services

"…this feature fits our requirements nicely." Chris, Hertzian

"I tried it yesterday and its super simple to use (Even I can use it 😊)" Samantha, TheDirectorsChoice
As a result, our Trustpilot rating has rocketed! Look at our latest reviews.
Audit logs and reminders
We understand the need for peace of mind too. With every document sent for eSigning, we provide detailed audit logs and easy-to-use reminders. As a result, you get the much-needed assurance that the documents are being digitally signed quickly and legally. Create an account today.
Send your first document for eSigning [Watch]
Made and supported in the UK
Doc2 is proudly developed and supported in the UK. Our customer service is based just outside London. In addition, it's first-class as our reviews testify.
To sign up for our free plan click here.
Did we mention the free plan offers 5 free digital signatures a month? And that it's FREE!!